Steve French and Grae Regal live in South London and started recording together nearly 20 years ago. Grae had previously tried managing Steve's instrumental composing, and then put forward a load of songs they then began work on, utilising some top musicians Steve had met along the way when he was a touring session player with Haircut 100, Tom Robinson and many others. Steve also worked with his old friend Richard Mazda to form and write material for Gorky DC some years ago.
The album French and Regal (available to download from Bandcamp) was recorded in their home studio onto DAT on a Fostex 16 track (one striped) with 24 track mixer and various bits of outboard gear including MIDI instruments (GM S3, Roland MKS 20, Yamaha DX7, Korg MS10, Roland D110, Quadraverb, Midiverb, Proteus 2000, AKAI S900). They originally used Dr T software on an Amiga and progressed to Cubase on a PC. Steve was essentially engineer and programmer, but they both produced the music. Some tracks were engineered by the late lamented John McGowan who Steve had worked with on The Sound Hole by The Primevals. Some tracks were mastered for an EP at RPM by Ron Springer.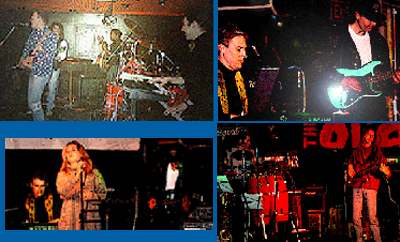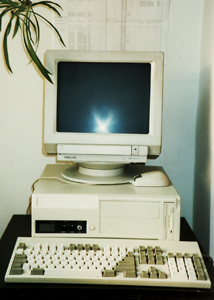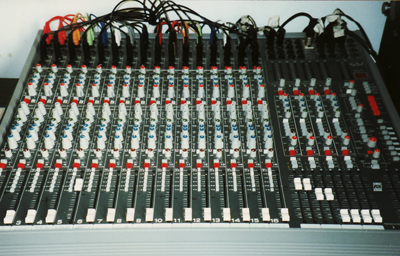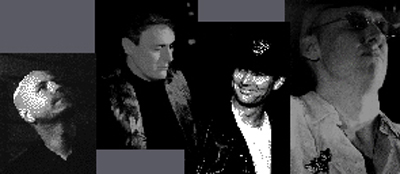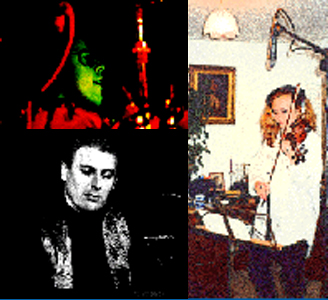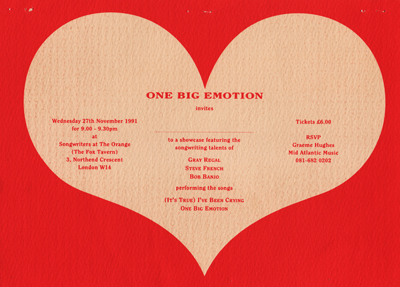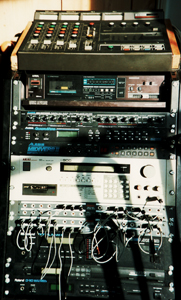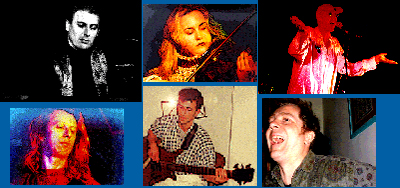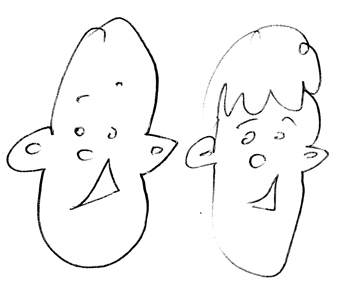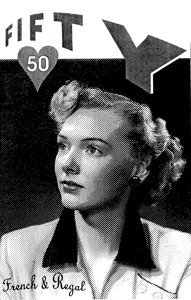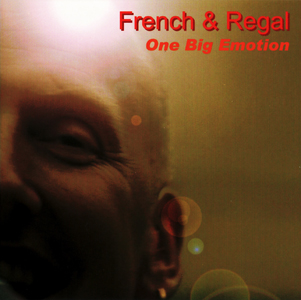 Some songs arrived nearly fully formed from Grae and Steve helped to arrange and form them into full productions; others Steve came with the music and Grae added the lyrics, some a mix of both. The band (as One Big Emotion) did a few showcase gigs which only succeeded in attracting the interest of the producer Charlie Skarbek (known for his World in Union rugby song). The band recorded new versions of songs with Charlie in his studio in Sussex, and through his connections the music was touted round the record companies. All expressed interest and liked the music, but the bottom line seemed to be the cost of putting a large band out on the road (vocals/guitar, keyboards, violin/bv, bv, guitar, bass, drums, percussion - 8 in all). The album's music is of a very high standard and has great lyrics (don't be fooled where the sympathies lie in the track Money). The cover is a doodle Grae made (he studied fine art).

"Steve and Gray gave the impression of being an integrated yet vastly different pair. 'He's the noisy one and I do the work' said Steve. 'I prefer to think of it' interjected Gray 'as my being the lyrical melodicist' (Gray writes all the lyrics for the band). I asked them how they got together: Gray - 'Steve was touring in a number of bands and writing music and we met up at a Tom Robinson gig and I suggested we approach some companies with Steve's music. We couldn't get anyone to commit themselves to the project so I suggested we write together, and the mixture of my bravado, a wealth of ideas I had carried around with me and Steve's musical experience produced these tuneful and very memorable songs.' Steve - 'We now have a lot of ideas down on tape, and with the help of our team of highly talented musicians, the music keeps on coming.'"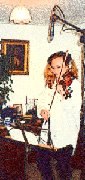 Gray Regal was born in Weymouth, England and shortly after moved to Canada with his military father. His parents divorced and Gray moved constantly between Canada, Spain and England staying with both parents until going to art school at 17. Gray studied painting and drawing in Bournemouth and Philadelphia, USA. He founded the arts school bands Tripe and Cobalt Blue, both of which enjoyed a local following (Cobalt Blue still exist but all the members have changed!). After art school Gray was broke and sold everything he had (for $400) and moved to Western Canada to work on the oil rigs. He worked as a roughneck for the next three years and was no longer broke!

Gray moved to London, England to get back into painting and busking his own material moving between England, France and Spain. Gray met Steve French backstage at a Tom Robinson gig at the Marquee. After several drinks and a breathalyser they decided they would make a good partnership.

Steve French has led and written songs for his own bands from the age of 14 in his native Bournemouth. Seduced by the lure of the road, he left school at 17 to tour US bases in Germany with the wonderfully titled Stella Mack and Take Four. The band - now called Howzat (minus Stella) - then moved to London, playing any gigs going with all the band members working in the same office! Having been ripped off by a publisher and dropped by a record company, Steve moved to Norwich where he formed and composed for Private Language, a rock and jazz band which included Phil Smith and Marc Fox - later to become part of Haircut 100. When the band broke up, he returned to the Smoke, pursuing a solo career playing piano and keyboards in pubs, restaurants and wine bars. Once again, the lure of the road led to work with a series of bands, playing in the UK, Israel and the USA with Haircut 100, on the Thompson Twins' "Into The Gap" tour with Savage Progress and UK tours with the Roy White Band, once being spat off the stage on the Spear of Destiny "Home Service" tour. He then spent a very enjoyable two years with the Tom Robinson Band, performing on a number of UK, Italian and Japanese tours, as well as three weeks as a trio at the Edinburgh Festival. As well as writing songs with Gray, Steve has written for films, TV, radio and exhibitions.
Over the recordings we made, we used a number of brilliant musicians, including Emma Byrne (violin and backing vocals), Paul Harvey (guitar, om Robinson, Prefab Sprout), Chris Childs (bass), Neil Martin (drums), Mark Ramsden (sax, Tom Robinson, Gary Husband), Les Nemes (bass, Haircut 100), Max Wynter (trumpet).
The band only did a few showcase gigs:
Nov 1991 - The Orange, W Kensington (London, UK)
Mar 1992 - The Orange, W Kensington (London, UK)
Mar 1994 - Half Moon, Herne Hill (London, UK)
Mar 1994 - The Orange, W Kensington (London, UK)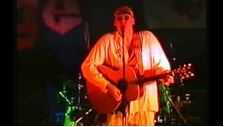 The band was: Grae Regal (lead vocal and guitar), Steve French (keyboards), Emma Byrne (violin and backing vocals), Paul Harvey (guitar), Chris Childs (bass), Neil Martin (drums), Sarah (backing vocals), Ed (backing vocals and percussion)

Videos are available on my You Tube channel
LINKS
Bandcamp: French and Regal
FAR Songs
Soundclick
Soundcloud
Soundcloud RSS
The MMMMPS
Grae later revived an old song of his (the first we ever did, in fact) in 2012 called Are You A Girl or a Boy? with Paul Harvey on guitar, me on organ and Mark Ramsden on sax (see Tom Robinson) plus the fabulous Mark Fletcher on drums. Recorded at The Dairy Ltd in Brixton, engineered and with bass by Mark. We did a video at the Atlantic pub in Briston with a young student team plus celebrity transvestite Vanilla.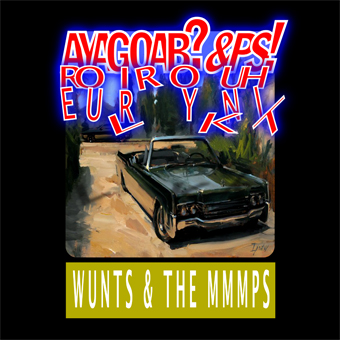 Click on the image to listen to Are You A Girl Or A Boy?: