CHANNEL 4 TV: Earth Calling Basingstoke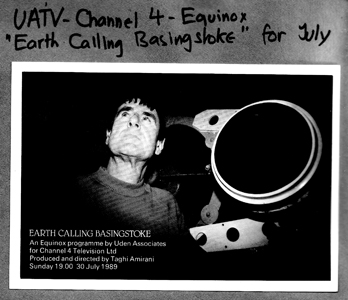 Through Julia Warren, a video director friend I was introduced to Taghi Amirani who asked me to compose music for a Channel 4 programme made by Uden Associates, Earth Calling Basingstoke. I was commissioned to write a series of short pieces for use in the introductions to each of the amateur astronomers in the programme.
DESIGN MUSEUM: Sport 90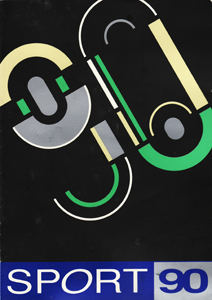 Julia and I worked with the Design Museum to produce two videos to accompany their Sport 90 exhibition. I wanted to incoroporate rhythmic sports samples alongside anthems and chants in the videos, as well as ambient music to be played between the videos at the exhibition. I was able to sample quite a lot myself, but for some samples (e.g. boats in water) we went to a specialist audio effects company, which was fascinating: they would choose the unlikeliest objects to produce the sounds we needed. The first was a more fashion-oriented piece using actors, the other using stock footage based around the Olympics.
BBC RADIO 4: Youth Parliament
I was introduced to the Bank department for the BBC, and was asked to come up with a piece of music for a political programme for younger people called Youth Parliament, presented by James Naughtie. I wrote a baroque-type piece The Contract which seemed appropriate for the subject:
Michiko
Michiko Koshino is a fashion designer, and her company needed a video and music for a show in Kensington and tour in the far East, and I worked again with audio samples and music alongside images and ideas created by Tim Blake. There was also a promo we produced featuring Gary Stretch, the boxer.
Timken

Early on in my career, I was asked to write some music for a promo for the American ball-bearing company Timken. I used timecoded 1/4 inch tape.
Videos are also available on my You Tube channel.
Earth Calling Basingstoke
Sport 90
Faster Higher Stronger
Fitter Quicker Richer
Michiko
Michiko Fashion
Michiko Video